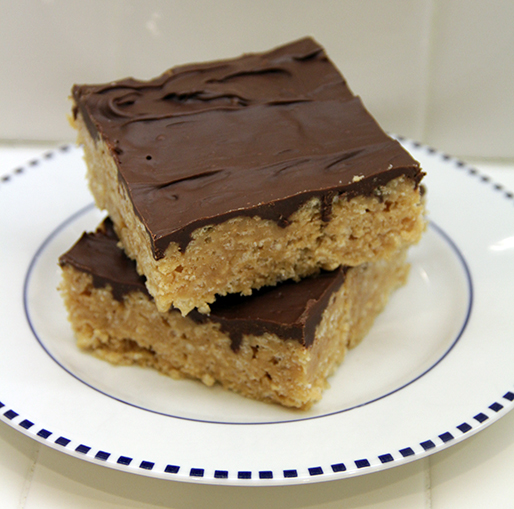 There are about 8 different chocolate days "observed" each year. I'm not sure any other food gets so many days celebrated. I'm in! Chocolate is my all time favorite thing to eat. Oh, except for white chocolate which really isn't chocolate at all. It will satisfy my craving in very rare instances. When my hubby and I were dating, we worked together. One day we went to the cafeteria for lunch and I grabbed a slice of chocolate cake covered in chocolate ganache and chocolate chips with some raspberry coulis. Dylan happens to mention he's not really a dessert or chocolate fan. I gasped! I actually said, "Yeah, I don't know if this relationship will continue much longer." Luckily for Dylan, my office partner was sitting with us that day and she said, "Kelly, just think, you won't have to share…EVER!" Flash forward 20 years…Dylan not only eats all desserts and chocolate, I am a good wife and share 50/50!
I first tasted this recipe at a family reunion. Dylan and I went to Arizona and met a lot of family on my maternal grandma's side. It was a potluck and someone made these Chocolate Scotcheroos. I'm not sure where the name comes from but they are direct from the Kellogg's website. If you like Rice Krispie Treats but they leave a little to be desired, these are for you. I love the chocolate and peanut butter combo and the addition of the butterscotch chips gives it that extra sweetness.
Happy World Chocolate Day!
Chocolate Scotcheroos
Printer Friendly Version
1 cup light corn syrup 1 cup sugar
1 cup peanut butter
6 cups Kellogg's® Rice Krispies® cereal
1 package (6 oz., 1 cup) semi-sweet chocolate morsels
1 cup butterscotch chips
Place corn syrup and sugar into 3-quart saucepan. Cook over medium heat, stirring frequently, until sugar dissolves and mixture begins to boil. Remove from heat. Stir in peanut butter. Mix well. Add KELLOGG'S RICE KRISPIES cereal. Stir until well coated. Press mixture into 13 x 9 x 2-inch pan coated with cooking spray. Set aside.
Melt chocolate and butterscotch chips together in 1-quart saucepan over low heat, stirring constantly. Spread evenly over cereal mixture. Let stand until firm. Cut into 2 x 1-inch bars when cool.
Note: Before measuring the corn syrup, coat your measuring cup with cooking spray–the syrup will pour easily out of the cup.
Recipe from: Kelloggs