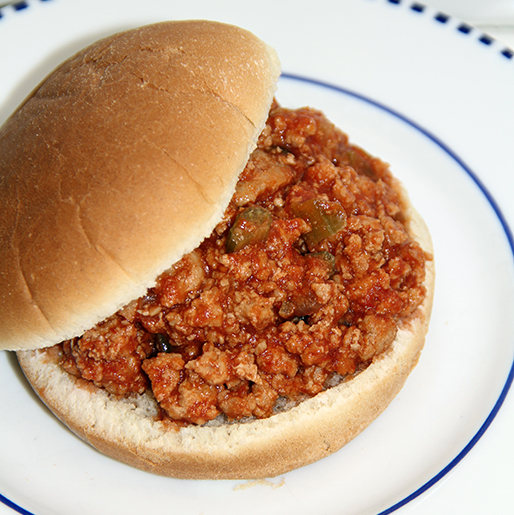 Happy 8th Blogoversary to me!
Sloppy Joe's are one of the first things I remember cooking for my family when I was still living at home. It is so easy yet so comforting and delicious. Whenever my aunt had a garage sale, you could count on her making Sloppy Joe's. There are many ways to make them and each person has their own version. I remember in high school I had friends who were shocked my mom made them from "scratch" using the seasoning packets because they would bust open a can of Manwich. I remember the Manwich commercials and the slogan, but until today I thought it was the entire meal in a can! I realized it is just seasoned tomato sauce that is added to cooked ground beef.
When my kids were young I wanted to get away from seasoning packets and make my own. I couldn't find a good Sloppy Joe recipe until I discovered the Pioneer Woman. I started following her blog before she aired on the Food Network. She posted her Sloppy Joe's recipe in 2010 and I've been making them ever since much to the delight of my family.
Sloppy Joe's
Printer Friendly Version
2 Tablespoons Butter
2-1/2 pounds Ground Beef
1/2 whole Large Onion, Diced
1 whole Large Green Bell Pepper, Diced
5 cloves Garlic, Minced
1-1/2 cup Ketchup
1 cup Water
2 Tablespoons Brown Sugar
2 teaspoons Chili Powder (more To Taste)
1 teaspoon Dry Mustard
1/2 teaspoon Red Pepper Flakes (more To Taste)
Worcestershire Sauce, To Taste
2 Tablespoons Tomato Paste (optional)
Tabasco Sauce (optional; To Taste)
Salt To Taste
Freshly Ground Black Pepper, To Taste
Kaiser Rolls or Hamburger Buns
Butter
Add butter to a large skillet over medium high heat. Add ground beef and cook until brown. Drain most of the fat and discard.
Add onions, green pepper and garlic. Cook for a few minutes or until vegetables begin to get soft.
Add ketchup, brown sugar, chili pepper, dry mustard and water. Stir to combine and simmer for 15 minutes, adding salt and pepper to taste. Also add tomato paste, Worcestershire and Tabasco if desired. Taste and adjust seasonings as needed.
Spread roll with butter and brown on the griddle or skillet. Spoon meat mixture over the rolls.
Serves 8
Receipe from: Pioneer Woman