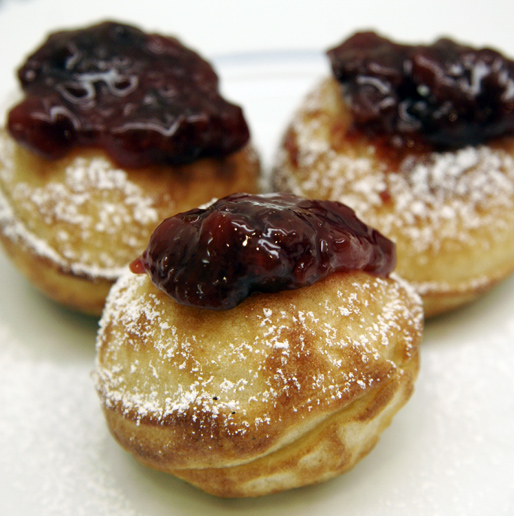 One year ago today I posted about making Orange Marmalade for the first time. A jam I have made many times is Plum Jam. The difference between jam and jelly is that jam is made with cooked fruit and jelly is made with the juice of the fruit.
Just as I got the oranges from my parents' backyard tree, I got these plums from their backyard too. When it comes to plums, I'm a little partial to plums with the red insides. I'm always disappointed when I bite into a plum with the yellow inside. When I was very young, my maternal grandparents had two Satsuma Plum trees in their backyard. Even as a small child, I remember those dark red skinned and red fleshy plums. While my parents' Satsuma tree produces smaller firm fruit, they are just as juicy and delicious. I remember my grandma making plum jam with her plums too. She always had the wax inside the jars which was always fun to peel off.
The other day I bought Aebleskivers from Trader Joe's, which are Danish pancakes. Since I had never seen them in a store before, I thought it would be fun to have them at home. Aebleskivers are typically topped with jam and powdered sugar. It was perfect with our Plum Jam!
Adapted from: Sure Jell
Plum Jam
Printer Friendly Version
6 cups prepared fruit (about 4 lbs. fully ripe plums)
1/2 cup water
1 box Fruit Pectin
1/2 tsp. butter or margarine
8 cups sugar, measured into separate bowl
Fill a large pot (at least 12-quart) 3/4 full with water, set over high heat and bring to a boil. Place 10 (8-ounce) jars and rings, canning funnel, ladle, and tongs into the boiling water and make sure the water covers the jars by at least an inch. Boil for 10 minutes. Turn off the heat, add the lids and leave everything in the pot until the marmalade is ready.
Pit plums. Do not peel. Finely chop or grind fruit. Place fruit in saucepan; add water. Bring to boil. Reduce heat; cover and simmer 5 min. Measure exactly 6 cups prepared fruit into 6- or 8-qt. saucepot.
Stir pectin into fruit in saucepot. Add butter to reduce foaming. Bring mixture to full rolling boil (a boil that doesn't stop bubbling when stirred) on high heat, stirring constantly. Stir in sugar. Return to full rolling boil and boil exactly 1 min., stirring constantly. Remove from heat. Skim off any foam with metal spoon.
Ladle immediately into prepared jars, filling to within 1/8 inch of tops. Wipe jar rims and threads. Cover with two piece lids. Screw bands tightly. Place jars in stockpot. (Water must cover jars by 1 to 2 inches; add boiling water if needed.) Cover; bring water to gentle boil. Process 10 min. Remove jars and place upright on a towel to cool completely. After jars cool, check seals by pressing middles of lids with finger. (If lid springs back, lid is not sealed and refrigeration is necessary.)