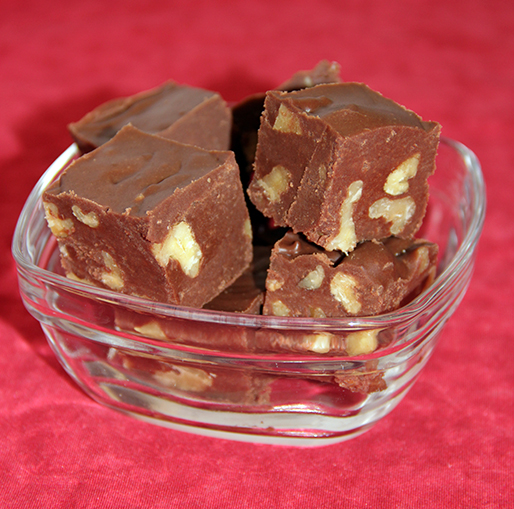 Fudge…this candy has such an unusual name, yet makes me smile as I think about it's smooth, creamy and chocolatey texture. Sometimes it's hard to get the right consistency, if you don't boil it enough it will be crystalized sugar; boil it too long and it can become a hard candy. While I do love making candy (Chocolate Almond Brickle), I would make a super easy Rocky Road just to skip the hassle of the fudge making. About 2 1/2 years ago, I started asking everyone I knew if they had a really good fudge recipe. My mom's high school friend, Debbie, who we would go to tea with, gave me two fudge recipes she makes. Debbie makes the decades old fudge recipe originally on the back of the Kraft Marshmallow Crème jar. Kraft changed the recipe many years ago and people were not happy. It is hard to find the original. And since I love marshmallow and chocolate together, it has quickly become a family favorite! It's definitely worth the effort. Happy Valentine's Day!
Fantasy Fudge
Printer Friendly Version
1 jar marshmallow crème (5 oz. to 10 oz.)
1 ½ cups sugar
⅔ cup evaporated milk
¼ cup butter
¼ tsp salt
12 oz. package semi-sweet chocolate morsels or
6 oz. milk chocolate and 6 oz. semi-sweet chocolate
½ cup chopped nuts, optional
1 tsp vanilla
Combine marshmallow crème, sugar, evaporated milk, butter, and 1/4 tsp salt.
Bring to full boil, stirring constantly. Boil 5 minutes over moderate heat, stirring constantly.
Remove from heat. Add 12 oz. chocolate morsels and stir until melted.
Stir in 1/2 cup chopped nuts, and 1 tsp vanilla.
Pour into greased 8″ square pan. Chill until firm.
Makes 2 ¼ lbs.
Adapted from: Kraft