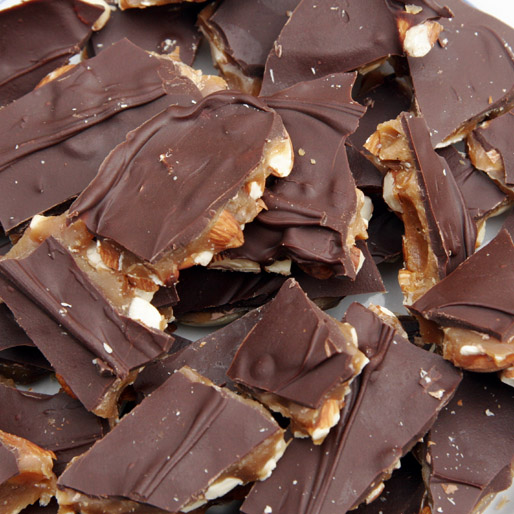 One show on my TiVo season pass is Paula's Best Dishes with Paula Deen. Anytime I make one of her recipes my boys will always ask, "How much butter is in this recipe?" There almost always is, but it's so worth it! I watched Paula's show where her guest made this candy and I had to make it that night. It really was calling me. I have made it several times already in the last 2 months and it has gotten rave reviews.
Chocolate Almond Brickle
Printer Friendly Version
2 1/2 cups almonds, toasted and coarsely chopped
1 cup (2 sticks) butter
1 1/2 cups packed brown sugar
1 3/4 cups chocolate morsels
Sprinkle nuts over the bottom of a well-greased 13 by 9-inch baking pan. 
Melt the butter in a medium, heavy-duty saucepan over medium heat. Stir in the sugar. Bring to a boil, stirring constantly, until the mixture reaches 280 degrees F on a candy thermometer, about 7 minutes.
Pour the hot mixture over the nuts; sprinkle with morsels. Let stand until morsels melt and become shiny and soft, about 5 minutes. Spread evenly.
Refrigerate for about 20 minutes. Break into bite-size pieces.
Recipe From: Paula Deen