"Old Original" Nick's Roast Beef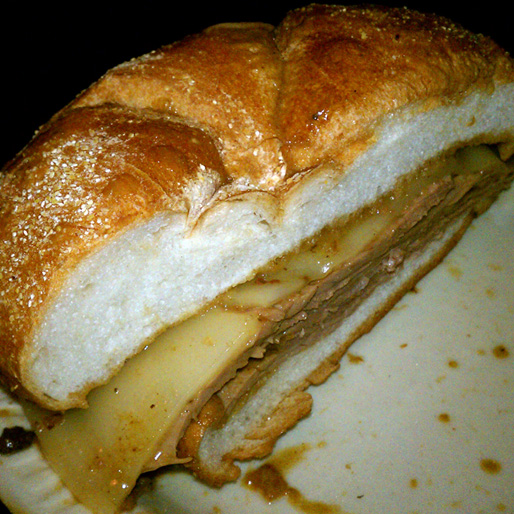 This is in honor of my dad. Happy Birthday!
Philadelphia, PA – We just took a vacation to Pennsylvania and New Jersey. Since last summer this was the plan. Several months ago my dad was watching The Food Network and saw a show called Meat and Potatoes. On that episode there were three restaurants that were featured. One was a location in Beverly Hills which my parents went to for their chili. My dad was always a sucker for chili. On that same episode was a place in Philadelphia called "Old Original" Nick's Roast Beef. My dad said it looked so good he was ready to hop on a plane himself. This was huge for him to say because he would get airsick. He gave me a print out of Nick's info and said I had to try it.
When my dad became very sick, I wanted to cancel our trip. Unfortunately, my dad lost his battle with cancer just two weeks before we left. With my mom's OK, we kept our vacation and my list of must try restaurants. Of course our first stop had to be Nicks! Dylan's cousin, Barbi and her husband Chris picked us up at the airport and we headed straight for Nick's in south Philly. It wasn't in the best of neighborhoods and if it wasn't 9:30pm at night, we may have driven past it. It is a hole in the wall place. We walked past the bar area to the back seating. I don't think there were more than 12 tables total. Then I hear Barbi call out, "It's Joe Frazier!" What??? The Smokin' Joe Frazier? I explained to my kids this was the man who fought Muhammad Ali in the Thrilla in Manilla. We just read a biography about Ali, so they understood. After meeting Joe and getting photos, we got to business.
I always have to get what a restaurant is known for. So in this case it was their Roast Beef Sandwich with Provolone Cheese. I asked for it "overboard" which means they dunk the bottom half of the kaiser roll into the au jus. The sandwich wasn't quite as juicy as I was expecting, although still quite wonderful. One of the kids got their jus on the side, so I dunked my sandwich into their jus…perfect! It was salty and indulgent. The roast beef is slow roasted, sliced thin and piled high. It was tender and delicious. Thanks dad for turning me on to Nick's. It was the perfect way to start our trip!