Pistachio Ice Cream, Blogoversary, Pinterest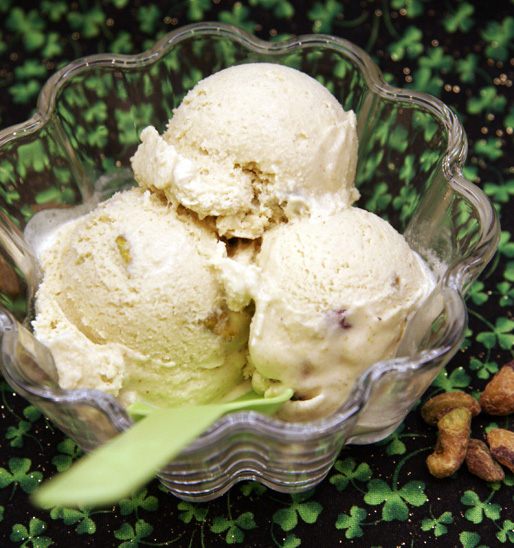 One year ago today I decided to start food blogging because not only do I love to bake and cook, but I wanted to share recipes with friends and family. I'm so excited to share this fabulous recipe for Pistachio Ice Cream on my first Blogoversary!
Ice cream is my absolute favorite thing to eat (remember Leap Day). I was just telling my kids the other day how my brother and I would ride our bikes to Thifty (aka Rite Aid) for some ice cream. At the time cones were only 5 cents for a single scoop, 10 cents for a double and 25 cents for a triple!
My hubby and I got an ice cream maker from my cousin as a wedding present over a decade ago. Lately, I've been getting rid of things I no longer use. I decided to give the ice cream maker one last try and if it did not work (again), it was outta here. I turned to a friend's blog, Pure & Yummy, who featured some amazing ice cream recipes last summer. Since one of my children gave up chocolate for Lent, my ice cream options were dwindling. As luck would have it, I just happened to purchase shelled pistachios at Costco. The flavors in this ice cream are AMAZING! It's sweet, a little salty, crunchy and creamy smooth all at once. I kept telling my family, it was the best ice cream I have ever tasted…and that's saying a lot considering it's not chocolate! I will be making Pistachio Ice Cream again this week for St. Patrick's Day.
I realized my previous mistake when making ice cream; I did not chill the mixture long enough so the ice cream never formed or set properly. In the last week I have made two different ice creams and one sorbet. I'm thinking the ice cream maker gets to stay!
Pinterest – Since Christmas, I have been highly addicted thanks to my child's teacher! If you are not familiar, it is a virtual photo bulletin board where you create collections you like. I have gotten some great ideas for redecorating my family room and I have baked and cooked some fantastic recipes I have found. Now if only I could get around to some of those crafts. Come follow me on Pinterest!
Pistachio Ice Cream
Printer Friendly Version
1 cup unsalted shelled pistachios
¾ cup sugar
2 cups whole milk
4 large egg yolks
1 cup whipping cream
½ teaspoon almond extract
¾ cup unsalted shelled pistachios, toasted, coarsely chopped
Finely grind 1 cup pistachios and ¼ cup sugar in a food processor. Bring milk and ground pistachio mixture to boil in a saucepan. Remove from heat.
Whisk egg yolks and remaining sugar in a medium bowl. Gradually whisk in the hot milk and pistachio mixture. Return the milk and egg mixture to the saucepan. Cook over low heat stirirng constantly until custard thickens and leaves a path on the back of the spoon when your finger is drawn across, about 10 minutes (do not boil).
Strain into a large bowl. Stir in the whipping cream and the almond extract. Cover the mixture and chill completely in the refrigerator.
Once chilled, churn the mixture in your ice cream maker according to the manufacturers instructions. Add the chopped toasted pistachios in the last 2 minutes of churning. Put in an air tight container and freeze in the freezer for several hours before serving.
Makes about one quart.
Adapted from: Pure & Yummy