Strawberry Sour Cream Ice Cream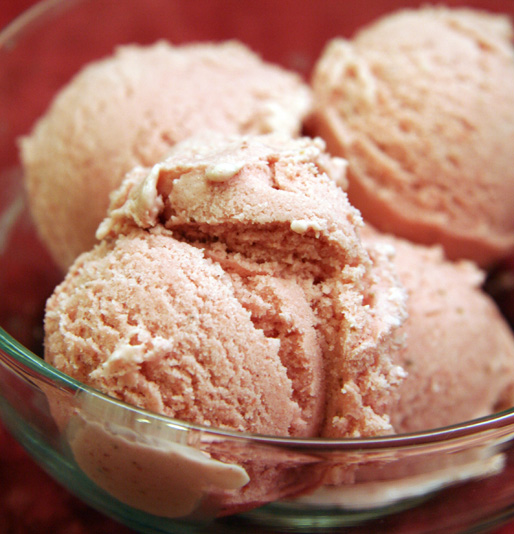 Since yesterday was National Pick Strawberries Day, I have the perfect ice cream. When we go out for ice cream, Dylan will usually get strawberry. I thought he would be thrilled when I told him what flavor of ice cream I had made. He was skeptical about adding sour cream and vodka to the strawberry mixture. What I have realized about adding alcohol to the ice cream mixture is it will prevent the ice cream from becoming icy. The sour cream gives it a mildly sour flavor which helps balance the sweetness of the strawberries, plus it adds a creamy texture.
Strawberry Sour Cream Ice Cream
Printer Friendly Version
1 lb. fresh strawberries, rinsed, hulled and sliced
¾ cup sugar
1 tbsp. vodka (optional)
1 cup sour cream
1 cup heavy cream
½ tsp. freshly squeezed lime or lemon juice
Combine the sliced strawberries in a medium bowl with the sugar and vodka. Stir until the sugar begins to dissolve. Cover and let stand at room temperature for 1 hour, stirring occasionally.
Transfer the mixture to the bowl of a blender or food processor and add the sour cream, heavy cream and lemon juice. Pulse briefly until almost smooth but still slightly chunky. Freeze in an ice cream maker according to the manufacturer's instructions.
Adapted from: The Perfect Scoop