Bread and Butter Pickles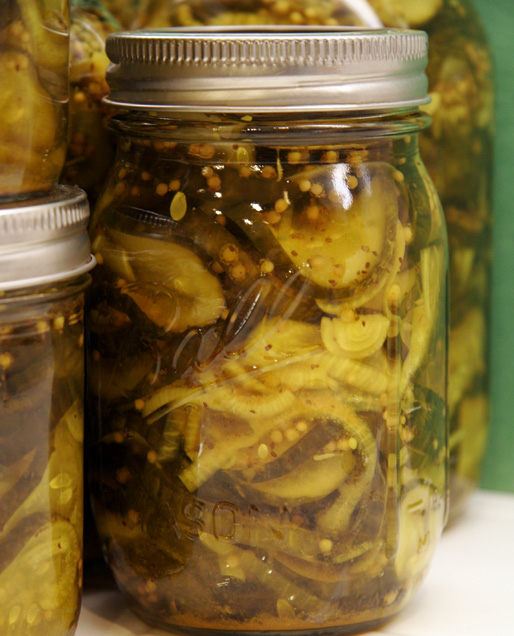 In our garden we usually have an abundance of zucchini which I have mentioned before…Zucchini Parmesan Crisps, Spring Fling Cake and Chocolate Zucchini Cake. This year I am getting a bumper crop of cucumber. I have already made three batches of bread and butter pickles with our homegrown cucumbers and onions. Last year I tried a new bread and butter pickle recipe because it was much easier but I won't do that again. Everyone said they were not as good. In the long run, it is certainly worth putting a little extra effort into a recipe. I love these pickles because they are tangy and sweet in one little bite. Plus, I love the addition of the onions. Ten years ago my hubby won first place for sweet pickles at the fair with this recipe! He loves to layer the bread and butter pickles in his turkey sandwich. I must admit, it is a bit tasty!
Bread and Butter Pickles
Printer Friendly Version
4 quarts sliced medium cucumbers
8 medium white onions, sliced
⅓ cup pickling salt
3 cloves garlic, halved
Cracked ice
4 cups sugar
3 cups cider vinegar
2 tablespoons mustard seed
1 ½ teaspoons turmeric
1 ½ teaspoons celery seed
Combine cucumbers, onions, pickling salt, and garlic. Add 2 inches of cracked ice. Refrigerate for 3 hours; drain well. Remove garlic.
In a large kettle combine sugar, vinegar, mustard seed, turmeric, and celery seed. Heat to boiling. Add cucumber mixture. Return to boiling. Pack cucumber mixture and liquid into hot, sterilized pint jars, leaving a 1/2-inch headspace. Wipe jar rims; adjust lids.
Process in a boiling-water canner 10 minutes (start timing when water begins to boil).
Adapted from: Better Homes and Gardens