Pumpkin Chocolate Chip Bread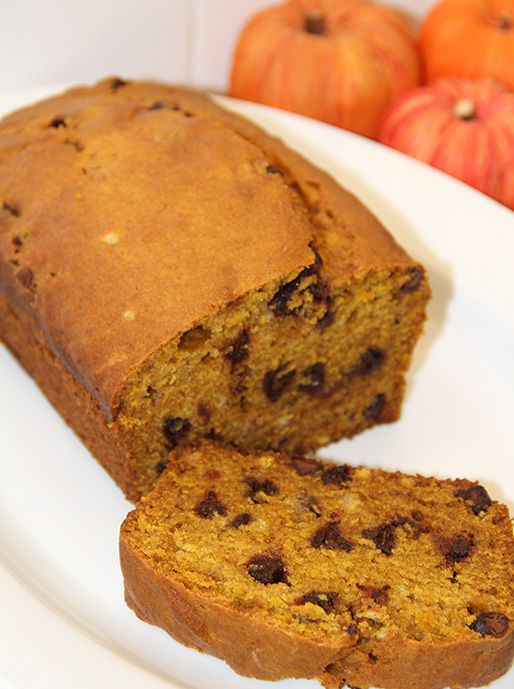 I have never posted about my love of pumpkin foods in the fall. Me in the fall!
One Sunday the beginning of October, my family went to Trader Joe's. We filled our cart with everything pumpkin in the store such as: granola, yogurt, bagels, cream cheese, ravioli, biscotti, soup, bars and oh the list goes on. But my favorite pumpkin item there I have talked about before: Pumpkin Pancake and Waffle Mix.
I have previously posted another bread recipe Layered Pumpkin Loaf. But, the Pumpkin Chocolate Chip Bread has been my favorite fall breakfast treat. I found it online back in the dark ages from a bed & breakfast location. I wish I knew more about this place other than I found a fabulous recipe that my entire family looks forward to every fall season. I mean can you really go wrong starting your day with chocolate?
Pumpkin Chocolate Chip Bread
Printer Friendly Version
4 eggs
3 cups flour
2 cups sugar
1 cup canola oil
½ tsp cinnamon
2 tsp baking soda
½ tsp salt
1 15oz. can pumpkin
1 12oz. package chocolate chips
Preheat oven to 350 degrees. Beat eggs and sugar. Mix in rest of the ingredients.
Spray 2 loaf pans or 24 muffin pans with non-stick cooking spray. Fill pans.
Bake in a preheated oven approximately 60 minutes for bread or 20 minutes for muffins.
Adapted from: The Carriage Inn