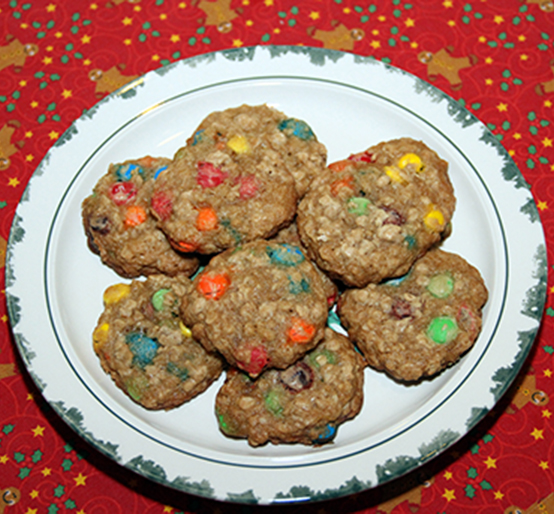 It's the most wonderful time of the year! Really, it is for our family. My kids get into the spirit of Christmas too. Maybe because we finally get the weather we love. One of our favorite Christmas things to do is bake M&M Oatmeal Cookies for Santa. Remember my love for M&M Cookies at Diddy Riese? We save all our little M&M packages the kids collect on Halloween and we make these cookies a few days before Christmas. This recipe is a take on a classic Nestle Choc-Oat-Chip Cookie, but we love the colorful and crunchy candies inside. Happy Christmas to all!
M&M Oatmeal Cookies
Printer Friendly Version
1 3/4 cups all-purpose flour
1 teaspoon baking soda
1/2 teaspoon salt (optional)
1 1/4 cups packed brown sugar
1 cup (2 sticks) butter or margarine
1/2 cup granulated sugar
2 large eggs
2 tablespoons milk
2 teaspoons vanilla extract
2 1/2 cups quick or old-fashioned oats
2 cups M&M candy, plain, peanut and peanut butter
1 cup coarsely chopped nuts (optional)
Preheat oven to 375° F.
Combine flour, baking soda and salt in small bowl. Beat brown sugar, butter and granulated sugar in large mixer bowl until creamy. Beat in eggs, milk and vanilla extract. Gradually beat in flour mixture. Stir in oats, morsels and nuts; mix well. Drop by rounded tablespoon onto ungreased baking sheets.
Bake for 9 to 10 minutes for chewy cookies or 12 to 13 minutes for crispy cookies. Cool on baking sheets for 1 minute; remove to wire racks to cool completely
Makes 4 dozen cookies
Oh, don't forget about the reindeer.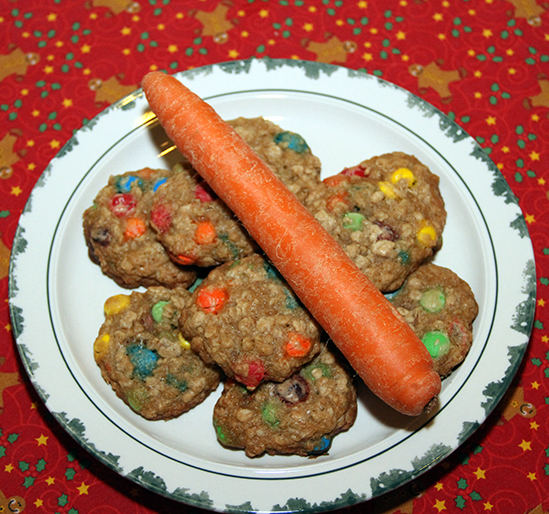 Adapted from: Nestle