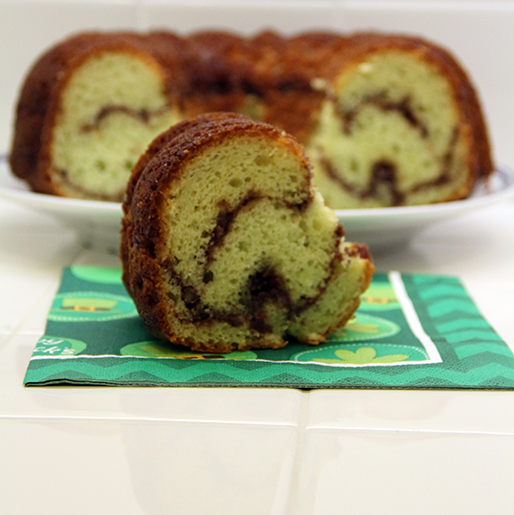 Happy 4th Blogoversary to me!
I started this blog four years ago. As time goes on I hope this will be a way for my kids to have the recipes they grew up with. I love knowing the history of a recipe and reliving memories of years past.
While I have previously talked about St. Patrick's Day before (2011 and 2012), I haven't talked about this Pistachio Coffee Cake. My former boss, Linda, used to make this for every office potluck because we all requested it. I love making it close to St. Patty's Day because of the green color in the pistachio pudding. The pudding mix helps make this cake so moist. Oh how I do love a good coffee cake!
Linda got the recipe from a PTA cookbook she helped create. Her friend submitted a recipe for a pistachio bread, but Linda tweaked it to make it more of a coffee cake. She then started giving the coffee cake as her Christmas present to her neighbors. Linda's younger son requested she make several of these cakes for his wedding reception in addition to his wedding cake. It's stories and memories like this I hope to pass on to my children.
Pistachio Coffee Cake
Printer Friendly Version
Crumb Filling:
¼ cup of each:
brown sugar
cinnamon-sugar mixture
pecans, chopped
flour
4 T. butter, cold
1 T. amaretto or almond extract (optional)
Cake Mixture:
3 ½ oz. pkg. pistachio pudding
1 box of white or yellow cake mix
4 eggs
¼ cup oil
½ cup water or amaretto
8 oz. sour cream or plain yogurt
Icing Glaze:
1 cup sugar
¼ cup milk, amaretto or water
2 T. butter, melted
Grease bundt or tube pan and sprinkle the sides with cinnamon sugar. Preheat oven to 350 degrees.
Mix crumb filling together, adding cold butter; cutting it in. Mixture will be coarse and easy to sprinkle. If you add the extract to this, cover it while you prepare the cake mixture to intensify the flavors.
Mix all cake ingredients together until well blended.
Pour ⅓ of the cake mix into the prepared pan. Sprinkle ½ of the crumb filling over the cake batter; continue alternation cake and mixture, topping off with the cake mix. Once all the ingredients are in the pan; lift up the cake pan and tap around the bottom of the pan to release any air bubbles that may have formed.
Bake for about 50 minutes in the middle rack of your oven.
Once the cake has finished baking and has been cooled, invert onto a cake plate. Pour icing mixture over the cake; sprinkle with more cinnamon sugar, if desired.
Icing Directions
Mix ingredients together until smooth and creamy. It should drip off the spoon slowly, but not be runny. Cover with a damp cloth until ready to use or the icing will harden.
Cook's notes:
•I always add the almond extract to the crumb filling.
•I only use water for the cake mix. (I don't ever have amaretto in the house!)
•I never do the icing because I feel too guilty at breakfast!