Spinach Pasta Salad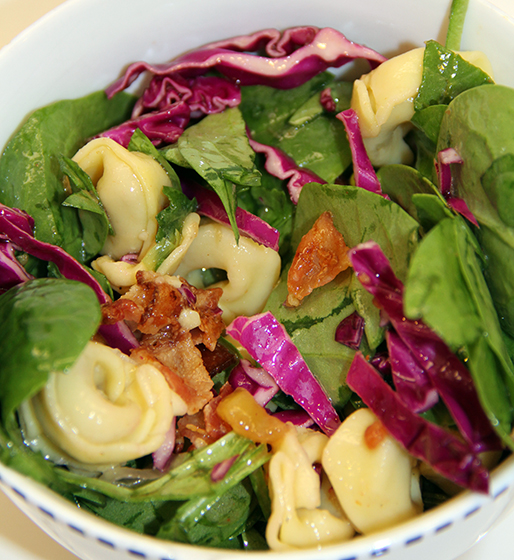 In my last post I talked about my office potluck. This salad was my go to dish. I have served it at home as a main dish and a side dish. I have taken it to other potluck's and there are never leftovers. I mean what's not to love about cheese tortellini with crispy bacon and some spinach just to make it seem healthy. The best part is the dressing which is made with chutney. Mango is the most common flavor I can find and it pairs well with the other flavors in the salad.
The street I grew up on always had a block party all day long on the 4th of July. For dinner, the BBQ's would be wheeled into the street at the end of the cul-de-sac. Everyone would take some sort of side dish or dessert and it was just a plethora of food. Our next door neighbor, Carolyn, brought this salad one year. I'm not kidding, this salad really is a great potluck item. Carolyn got this recipe from her sister-in-law's friend who got it out of a magazine way back in the day.
Last month my oldest son and I were attending a potluck dinner. I asked him what we should sign up for and he wanted a salad. I handed him a stack of recipe cards and told him to pick a salad he wanted to take. Guess which recipe he landed on?
Spinach Pasta Salad
Printer Friendly Version
7oz. package cheese filled tortellini
6 cups fresh spinach
1 cup shredded red cabbage or torn radicchio
6 slices bacon, crisp-cooked, drained and crumbled
4 green onions, sliced
¼ cup chutney
⅓ cup red wine vinegar
⅓ cup canola oil
Cook tortellini according to package directions. Drain. Rinse with cold water. Drain again.
In a large bowl, toss together tortellini, spinach, cabbage, bacon and green onions. Cover and chill.
For dressing, combine chutney, vinegar and oil in a jar. Cover and chill. Just before serving, shake dressing well. Toss with tortellini mixture.