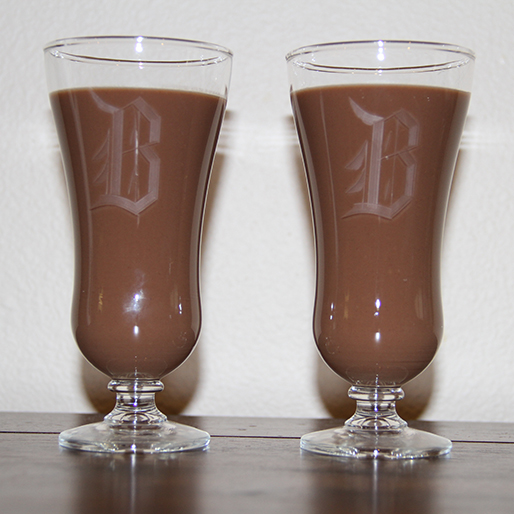 When my grandma passed away 10 years ago, there were very few "things" I was interested in keeping. The item I coveted most was her recipe box. There were several recipes she taught me to make (Peanut Brittle) and some I grew up with (Zucchini Bread, Brownies). Last year on Easter Sunday, Dylan's grandma passed away. Over the years, Nonna and I loved to talk about food, recipes and cooking shows. The only thing I asked my mother-in-law Kathy for was Nonna's recipe box.
In October, my husband's grandpa passed away. Kathy asked if I would like some bar glasses and parfait goblets with the letter B on them. Last month, Kathy arrived with our box of "B" ware. Dylan's grandparents had a different last name but same initial. The glasses and goblets are a great addition to our family. And this nostalgic chocolate pudding is the perfect way to put them to use.
While this chocolate pudding recipe is new to me, the blogger buys old cookbooks and recipe cards of home cooks purchased at estate sales. What a fantastic idea! I actually found this recipe in a magazine, but because I immediately pinned the recipe on Pinterest I can't remember which magazine. When I pulled up the website for A Cake Bakes in Brooklyn, my younger son looked at the recipe card and said, "Wow, that recipe is well loved!"
Chocolate Pudding
Printer Friendly Version
1 c. sugar
1/4 c. flour
1/4 c. cocoa powder
2 c. whole milk
4 Tbs. butter
2 eggs
2 t. vanilla
In a two-quart saucepan, combine sugar, flour and cocoa. Add 1 1/2 cups milk and cook until slightly thickened, stirring almost continuously.
In a medium bowl, beat the eggs and add 1/2 cup milk.
When the cooked mixture has thickened, slowly add it to the egg mixture, whisking all the while. (This is tempering, i.e., bringing the eggs to temperature, so as not to have scrambled eggs in your pudding.)
Pour this back into the saucepan and cook until a bit thicker.
Remove from heat and stir in the butter and vanilla.
Pour through a sieve (to ensure there are no lumps) and into a bowl, ramekins or whatever and place in the refrigerator for at least four hours. If you don't want a skin on your pudding, place plastic wrap directly on the surface.
Serve plain or with a dollop of whipped cream.
Adapted from: A Cake Bakes in Brooklyn