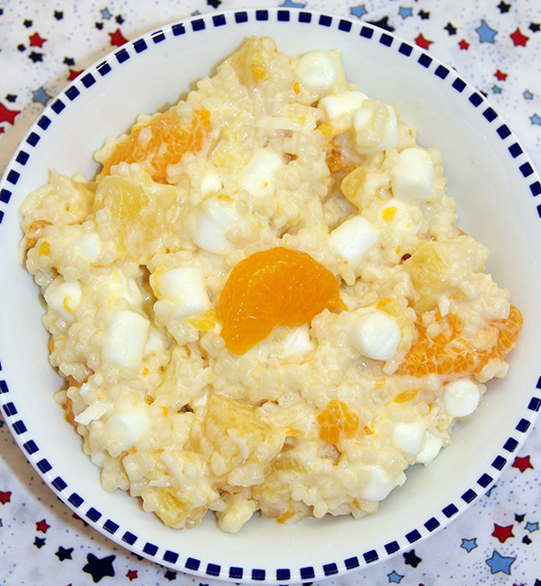 Frog Eye Salad…not a great name or description for our family favorite fruit salad made with…pasta. Stay with me, this is delicious. The pasta is a very small ball shape which is how this salad gets its name. I do buy the pasta at our local Italian market because it is 1/3 the price than the grocery store. The last time we were at the market, my kids noticed they sold Frog Eye Salad just like we make it! There are several versions of this recipe. Mine is made with a scratch "pudding" from the pineapple juice; another version is made with vanilla pudding from a box. One time at a family gathering, my youngest was mentioning he wanted some Frog Eye Salad. My hubby's cousin said they had it at a friend's house one time. So we started comparing notes. The one she ate was made without pineapple and coconut and instead had grapes, strawberries, apples, peaches or any fresh fruit you want. This sounds so delicious to me but my family won't let me make this any other way than the original. In this photo it may look like a lot of marshmallows, that's because my hubby likes the whole 10 oz. bag added.
My maternal grandma got this recipe on a visit to the mid-West in the 90's, maybe the 80's. She raved about it and we too thought it sounded strange but it has been a family favorite ever since. It's now my hubby and kids' favorite too. It is usually requested for BBQ's like the Fourth of July. It's side dish partner is almost always another family favorite Four Bean Hot Dish aka Baked Beans.
When I first lived alone, I made this recipe…for myself. I should have halved or even quartered the recipe because I was eating this salad for lunch, snacks and dinner for a week! Lesson learned. Yes, take note, it makes 25 servings. It is the perfect dish for a large crowd or leftovers with the family.
Frog Eye Salad
Printer Friendly Version
16 ounces Acini De Pepe pasta (can be called Pastina #75 at an Italian market)
1 cup sugar
2 tablespoons flour
½ teaspoon salt
2 eggs, beaten
1 ¾ cup pineapple juice (reserved from pineapple cans)
1 tablespoon lemon juice
3 cans (11oz.) mandarin oranges, drained
2 cans (20 oz.) pineapple tidbits, drained and reserve juice
1 can (20 oz.) crushed pineapple, drained
1 carton (8 oz.) cool whip
1 cup shredded coconut
1½ cups miniature marshmallows
Cook the Acini De Pepe pasta according to package directions. When done, rinse under cold water in strainer. Let cool.
In a saucepan over medium high heat stir together sugar, flour and salt. Gradually stir in pineapple juice and eggs. Cook and stir constantly until mixture thickens and is smooth. Should be the consistency of pudding. Remove from heat and stir in lemon juice. Let cool.
In a large mixing bowl combine the pasta and pudding mixture. Refrigerate overnight. Then lightly but thoroughly fold in the mandarin oranges, pineapple, coconut and cool whip. Refrigerate until serving. Just before serving add marshmallows; mix lightly.
Salad may be refrigerated for as long as a week in an airtight container. It also may be frozen, though the freezing somewhat alters the texture.
Makes 25 servings