Layered Pudding Dessert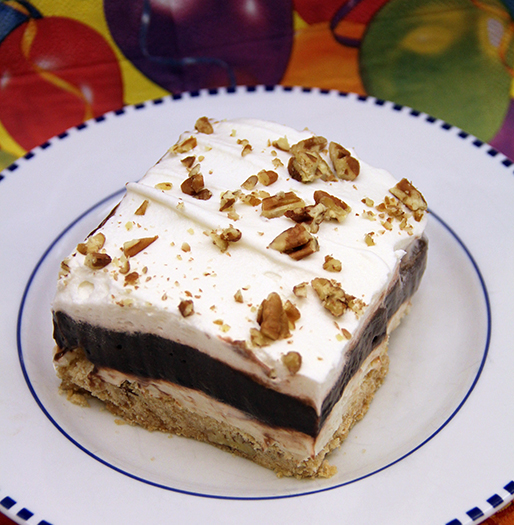 I love how food can have memories attached to them (remember Grandma's Brownies). This layered pudding dessert has so many memories throughout my life. It was my dad's favorite dessert. My mom always made this for Father's Day and his birthday. We got this recipe from my aunt, Marcia, who got it out of an Iowa Catholic high school cookbook in the late 1970's. Although my dad passed away five years ago (remember Nick's), I like to "celebrate" our loved ones who have passed away on their birthday. I make one food they enjoyed to remember them. This year for my dad's birthday, I'm going with his very favorite…with chocolate fudge pudding of course. My dad would say, "Is there any other kind?"
Why, yes, there is. The best part of this dessert is not just the different layers but that you can change the pudding flavor to your liking or to the season. Marcia said she enjoys making this with coconut cream pudding. I've made this with pumpkin pudding in the fall and I've made this at Christmas with crushed candy canes on top. Two of my aunts threw me my bridal shower where they served this dessert. One pan was made with chocolate pudding and one with butterscotch pudding. I made this for my older son's 3rd birthday but made it with an Oreo cookie crust and sprinkled it with crushed Oreos to make it look like a dirt cake.
There is a story my mom loves to tell about this dessert. One time my mom made it and there were leftovers. My brother and I were probably in high school and we called our mom one night at work to ask if we could have some of the dessert. According to my mom, there was still half a pan left and my brother and I split it and ate the rest! Oddly enough, my brother and I don't seem to remember this at all!
While this dessert has many different names including: Chocolate Delight, Chocolate Lasagna, Pudding Cake and many more; in my family we just called it dad's favorite dessert.
Layered Pudding Dessert
Printer Friendly Version
1st Layer
1 cup flour
1 stick butter
¾ cup pecans, finely chopped
Cut butter into the flour. Add nuts. Press into a greased 9" x 13" pan. Bake 20 minutes in a 350 oven. Cool.
2nd Layer
1 large carton (9 oz.) whipped topping
1 cup powdered sugar
1 8oz. Pkg. cream cheese
Allow cream cheese to warm up to room temperature. Measure out 1 cup of topping. Mix cream cheese, whipped topping and powdered sugar with a hand mixer. Reserve remaining topping for the 4th layer. Spread evenly over the crust.
3rd Layer
2 boxes (3.9oz each)
3 cups milk
Prepare 2 boxes of pudding mix according to the package directions except for the amount of milk. Use 3 cups instead of 4. Spread evenly over the cream cheese layer.
4th Layer
Top with remainder of whipped topping and sprinkle with chopped pecans or shaved chocolate.