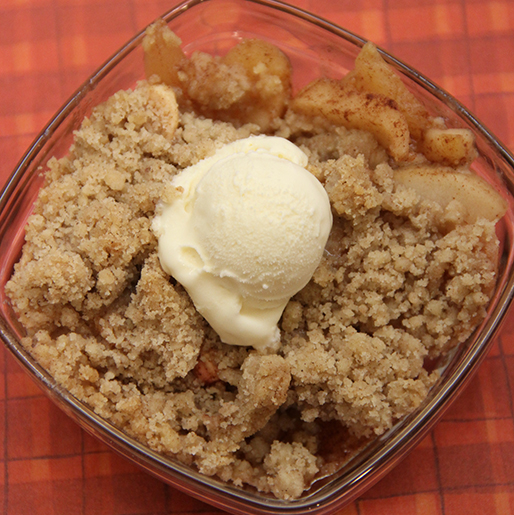 My paternal grandpa was a great cook. He enjoyed his time in the kitchen making biscotti, ribs, yeast bread or this Apple Betty. I wish I had thought to ask where they got this recipe. I have had a copy since I got married written by my grandpa in his beautiful cursive writing. I have made this for work functions and have mentioned the name to people over the years but no one ever seems to know about Apple Betty. Most of us have heard of Apple Crisp or Crumble or Cobbler, etc. But Betty? I never thought to look up the differences until now. I found a great article that explains these desserts perfectly. Guess what? All this time, we've been making an Apple Crisp! But it will always be an Apple Betty to me.
Apple Betty
Printer Friendly Version
5 lbs. Granny Smith or Pippin apples; peeled, cored and sliced in ½" slices (about 10 cups)
¼ cup water
2 T. lemon juice
1 tsp. lemon pulp
⅔ cup sugar
1 T. cinnamon
2 cups flour
1 cup sugar
3 tsp. cinnamon
¾ cup butter, melted
Spread sliced apples in a 9" x 12" x 2" pan. Mix water, lemon juice and lemon pulp and pour over the apples.
Mix ⅔ cup sugar, and 1 T. cinnamon to sprinkle over the apples.
Mix flour, 1 cup sugar, 3 tsp. cinnamon and butter in a bowl until well mixed. It will become small pebbles. Spoon over apples in a smooth layer.
Bake in a preheated oven at 375 degrees about 30 minutes.