Caramel Apple Cake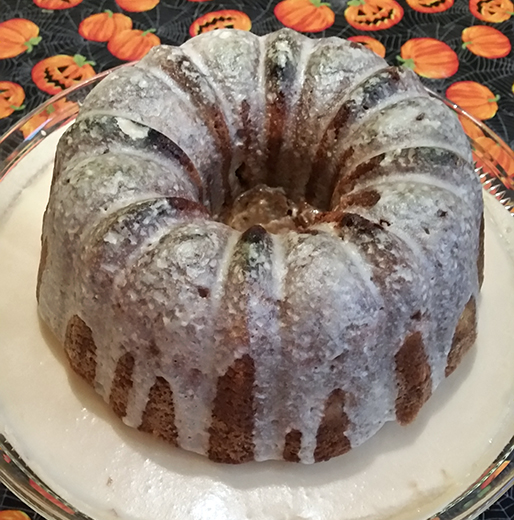 Fall! I love when the weather turns cool and crisp. And I love all the flavors of fall. I've never been a huge fan of pie, unless it's chocolate…with a chocolate crust (French Silk Pie). In the fall, lots of people love Apple Pie or Pumpkin Pie. Yeah, they're ok. I prefer my grandpa's Apple Betty or this Caramel Apple Cake recipe my mom found in the Taste of Home magazine back in 1996. This is an apple cake with a caramel icing, yep…I love the fall flavors in this cake.
Caramel Apple Cake
Printer Friendly Version
1 ½ cups vegetable oil
1 ½ cups sugar
½ cup packed brown sugar
3 eggs
3 cups all-purpose flour
2 tsp. Cinnamon
½ tsp. Nutmeg
1 tsp. Baking soda
½ tsp. Salt
3 ½ cups diced peeled apples
1 cup chopped walnuts
2 tsp. Vanilla extract
Caramel Icing:
½ cup packed brown sugar
⅓ cup light cream
¼ cup butter
Dash of salt
1 cup powdered sugar
Chopped walnuts, optional
In a mixing bowl, combine oil and sugars. Add eggs, one at a time, beating well after each addition. Combine dry ingredients; add to batter and stir well. Fold in apples, walnuts and vanilla. Pour into a greased and floured 10 inch tube pan or bundt pan.
Bake at 325 for 1 ½ hours or until cake tests done. Cool in pan 10 minutes; remove to a wire rack to cool completely.
In the top of a double boiler over simmering water, heat brown sugar, cream butter and salt until sugar is dissolved. Cool to room temperature. Beat in powdered sugar until smooth; drizzle over cake. Sprinkle with nuts if desired.
Yield: 12-16 servings
Recipe from: Taste of Home