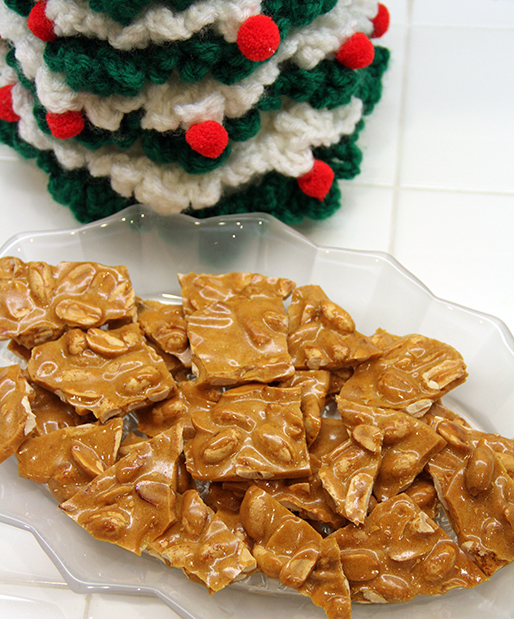 When I was growing up my maternal grandma made a plethora of goodies each Christmas; there was gumdrop bread, peanut butter cups, divinity, fudge and there was always peanut brittle. One year when I was in college, my cousin Michelle and I went for a lesson on how to make peanut brittle. My grandma used her pressure cooker pot because it was thick and heavy enough not to burn the candy while it got to the right temperature. Fast forward to my wedding. I had to register for a pressure cooker just so I could continue making the brittle! 15 years went by and my husband figured out how to use the pressure cooker for it's intended purpose. One day I might too. Merry Christmas!
Peanut Brittle
Printer Friendly Version
1 cup sugar
½ cup corn syrup
⅔ cup water
Grease a large cookie sheet. Set aside.
In a heavy 2 quart saucepan, over medium heat, boil above ingredients to 270 degrees.
Remove from heat and add:
1 ½ cups salted peanuts
2 T. butter
Stir well. Cook to 300 degrees. Stir slowly. Remove from heat and add:
1 tsp vanilla extract
1 tsp baking soda
Stir well until light and foamy and pour onto cookie sheet. Quickly spread out on sheet.
Cool at least 1 hour. Break into bite sized pieces.
Cooks notes:
It is best to have everything measured out before you start.
My grandma used Spanish peanuts (the ones with red skins), but I prefer regular.
My grandma also used dark corn syrup but I prefer light because I like the end result better.