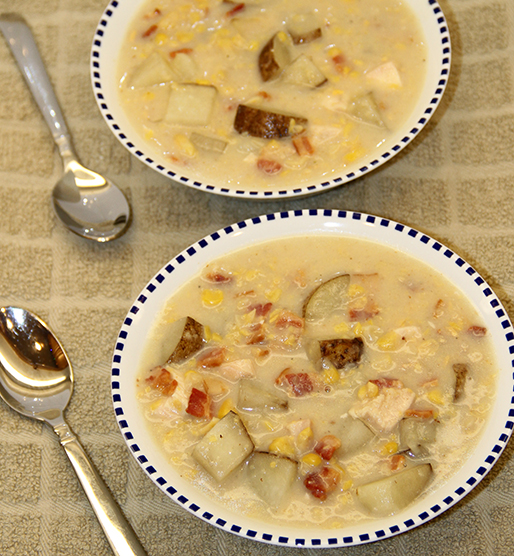 Soup, stew, bisque, chowder…they are all fairly similar and slightly different from each other. Chowders are prepared with milk, cream or a roux and often made with potatoes. I love them all. Plus, it makes a complete meal all by itself, especially when you have enough "stuff" to make it hearty. I used to think of soups as a wintery type meal. You know, warm and comforting on a cool day. Then I realized it is the perfect hot day meal because you don't have to start your oven. My mom got this recipe many years ago. It was a family favorite then and now my family loves it just as much. My favorite part of this chowder is the cream style corn and the bit of sweetness it adds to the chowder. Or is it the bacon…everything's better with bacon!
Chicken Corn Chowder
Printer Friendly Version
3 slices bacon, diced
½ lb. potatoes, unpeeled and diced
1 lb. boneless, skinless chicken, cut into 1" chunks
3 green onions, sliced
2 T. flour
1 chicken flavored bouillon cube
2 cups milk
1 17 oz. can cream style corn (I usually add 2)
Cook bacon until crisp. Remove bacon with slotted spoon; set aside.
Add potatoes to drippings. Cook until tender. Add chicken and green onions. Cook until chicken is no longer pink.
Sprinkle flour over chicken; stir to blend. Add bouillon, milk and corn.
Cook covered until mixture comes to a boil and thickens slightly. Season with salt and pepper to taste. Sprinkle with reserved bacon.
Makes 7 cups