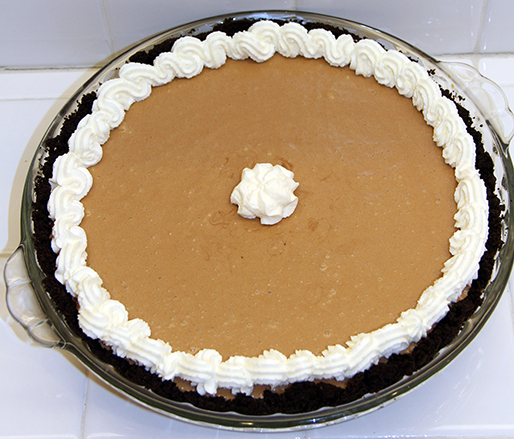 Happy 6th Blogoversary to me (2012, 2013, 2014, 2015 and 2016)! I guess I hadn't realized this day falls on 3/14…Pi Day. I'm going to let you in on a little secret, pie as a dessert is just ok for me. I could leave it really. Shocking if you know how much I LOVE desserts. One time many years back on a visit to Marie Callender's I saw this dark satin-y chocolate pie with a chocolate cookie crust called French Silk Pie. To Die For…really, it's that good. I searched and searched for a recipe so I could make it on my own. Most recipes I found were for a more chocolate cream pie, definitely not the same thing. Then, Pioneer Woman entered my life and she made this on her show in season 6! It has been life changing! I have made it several times since I first saw the airing of this show and I've made a few changes, I thought regular sugar made the pie taste too grainy/gritty so I use powdered sugar. Instead of unsweetened chocolate, I use semi-sweet. And, I only make it with the chocolate cookie crust. French Silk Pie is so creamy and silky good it will literally melt in your mouth.
French Silk Pie
Printer Friendly Version
4 ounces, weight semi-sweet Baking Chocolate
1 cup Salted Butter, Softened
1-1/2 cup Powdered Sugar
1 teaspoon Vanilla Extract
4 whole Eggs
pie shell/crust
In small microwave safe bowl melt 4 ounces of unsweetened baking chocolate until stirrable (about 45 seconds on high). Set aside to cool.
In a large bowl with an electric mixer and paddle attachment beat 1 cup (2 sticks) of regular (salted) butter and 1 ½ cups of white sugar until fluffy (about 1 to 2 minutes). When melted chocolate is cooled, drizzle it over the butter/sugar mixture. Add 1 teaspoon of vanilla extract. Beat the mixture thoroughly until combined.
On a Kitchen Aid mixer, you will be using the whisk attachment. Turn your mixer to a medium speed and over a period of 15 to 20 minutes add in the four eggs, one at a time, leaving about 5 minutes between each egg addition. Once the pie filling is well mixed, pour it into the baked pie shell, scraping every last speck of it out of the bowl. Smooth out the pie filling and place pie in the refrigerator to chill for at least two hours (preferably longer).
Cook's Notes:
• This recipe contains raw eggs; some stores sell pasteurized-in-the-shell eggs which would work well in this recipe. It is recommended that pregnant women, young children, the elderly, and the infirm do not consume raw eggs.
Chocolate Cookie Crust
25 Chocolate Wafer Cookies
5 Tablespoons Butter, Melted
Finely crush the cookies in a food processor; mix with butter. Press firmly onto bottom and up side of 9-inch pie plate.
Bake in a 350 degree oven for 10 minutes.
Whipped Cream
⅓ cup Heavy Cream
1 Tablespoon Powdered Sugar
In a deep mixing bowl, beat 1 cup heavy cream until soft peaks form. Sprinkle 1 powdered sugar over cream; beat until soft peaks form. Do not overbeat.
Adapted from: Pioneer Woman